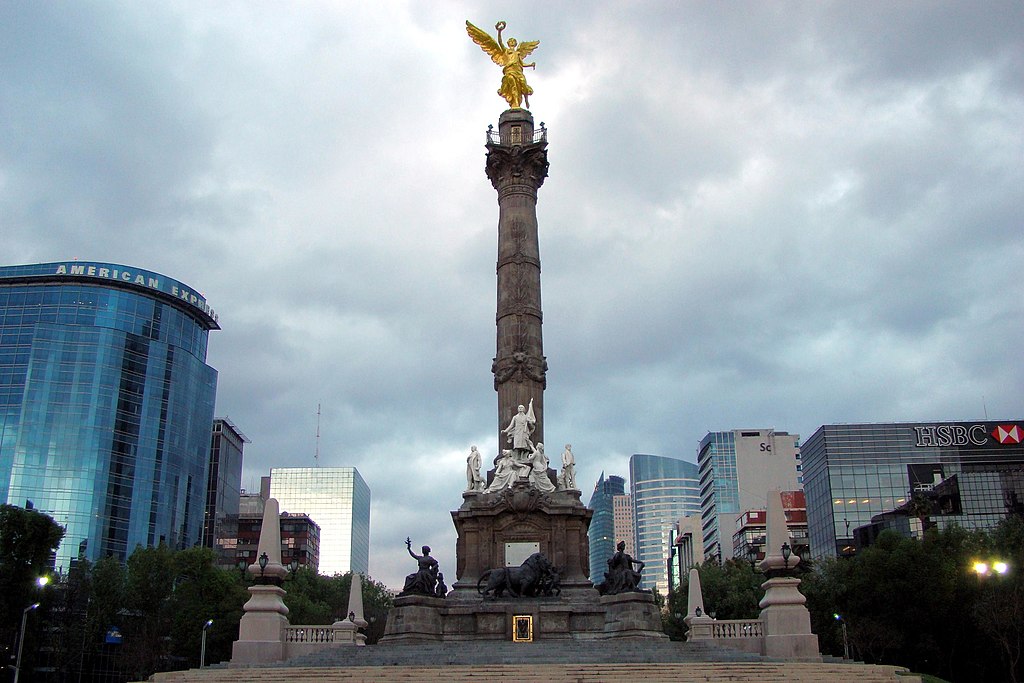 Credit:  Juan Manuel Gomez Ruano / CC-BY-SA 4.0
A symbol of victory, the statue of the Angel of Independence or the El Ángel stands majestically in Paseo de la Reforma. The first foundation stone was laid by President Porfirio Díaz in 1902.
Several renowned names were involved in the construction such as sculptor Enrique Alciati, Antonio Rivas Mercado as the project's main promoter and Roberto Gayol who was responsible for adapting the space. Its quadrangular base features a bronze sculpture on each vertex and symbolizes law, war, justice, and peace respectively. Its main facade includes an inscription that reads, 'La Nación a los Héroes de la Independencia' (The Nation to the Heroes of Independence). On the front side of this caption is a bronze figurine of a giant lion led by a child, demonstrating the strength and the innocence of youth during the war and at the same time, docility during peace.

The 36 meters column is made up of steel enclosed with quarried stones, highlighted with garlands and rings with the names of Independence figures. It also contains a two-hundred step staircase which leads to the standpoint area. The 24k gold-covered bronze statue of Nike, the Greek goddess of Victory crowns the tower. The monument was constructed in order to pay tribute to the heroes of Mexico's Independence. It was inaugurated on September 16th, 1910, in a concluding event of the festivities celebrating the 100th anniversary of Mexico's Independence which was graced by several ambassadors, diplomats, civil servants, and the general population.

In 1957 a strong earthquake shook the statue of the angel and the golden sculpture fell off the column but was repaired and replaced promptly. In the present day, the monument has retained its importance as one of the places in which the Mexican public assemble to celebrate or to protest on special occasions like political meetings and manifestations.