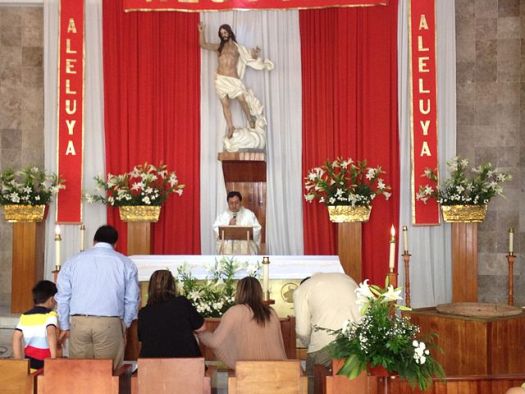 The Holy week or Easter week is also known as Semana Santa in Mexico. The celebration of the holy week consists of the processions of the brotherhood. The processions carry the statues of Jesus and Mary in immaculately decorated floats.
It is the time of the year when the religions and social get-togethers are witnessed the most.
Holy Week is celebrated in a very grand style in Mexico City. The celebration of the Easter week begins with Palm Sunday and ends on the Easter Saturday. The only part of the society which works during this week is the tourism sector. During Easter week, all the
hotels and 
restaurants
in Mexico City
are crowded. People head towards Mexico City beaches to spend time with family and friends.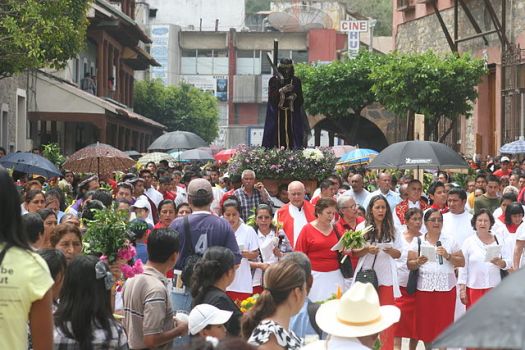 The palm leaves are decorated in a very authentic and artistic manner during the entire Easter week in the city.

Palm Sunday-Domingo de Ramos
Palm Sunday is the Sunday before the holy week of Easter and is celebrated as the welcome of Jesus in Jerusalem.

Maundy Thursday - Jueves Santo
It is also called as the Sheer Thursday. It is the fifth day of the holy week. Celebrated in the memory of the Last Supper of Jesus Christ with his apostles.

Good Friday - Viernes Santo
On Good Friday, Mexicans remember the crucifixion of the Christ. There is a Festive vibe throughout the city on this day. Various dramas, plays and acts are performed, displaying the crucifixion of the Christ, in a very remarkable manner. People performing the acts are dressed up in the attire of Jesus and the Virgin Mary. The grand processions are carried out throughout the town with the glorious statues of the Christ and the Virgin Mary.

Holy Saturday- Sábado Santo
Holy Saturday is the day of 'Burning of the Judas'. This day is also known as joyous Saturday. It is the day when the dead body of Jesus Christ was kept to rest in the tomb. Many artificial Judas are made with papers and other decorative material. The statue is then burned with the firecrackers or with fire. The festive occasion consists of food, dramas and dances for the folks to enjoy their hearts out.

Easter Sunday- Domingo de Pascua
Easter Sunday is the last day of the fabulous celebration of the entire Easter week and it signifies Christ's resurrection from the dead. This day is celebrated with music, ringing bells of the church, burning candles and flowers. It is a day of jubilation for the entire Christian society. On this day many folks go for egg hunting. The rise of Jesus Christ is greeted by all.
Visit Mexico City to experience the Holy Week which is celebrated in a Mexican way.