Skip the mad rush and find solace in some of Mexico City's best urban parks.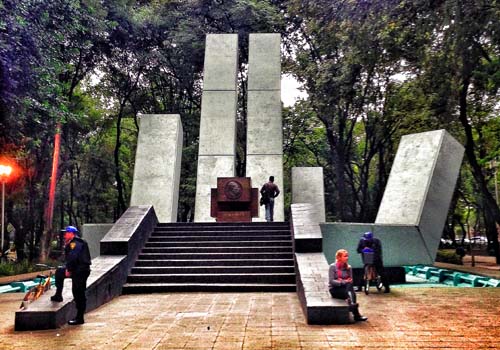 Parque España
This lovely park is popular among joggers and pet owners. Now a vibrant and relaxing area with green surroundings, a mini lake, and a charming rustic bridge, it used to be the entry way to Condesa's race tracks. It's close to restaurants along Nuevo León or Tamaulipas avenues, plus the structural  monument of Lázaro Cárdenas' is welcoming and beautiful.
Parque Mexico
Located in the middle of Mexico City in Colonia Hipodromo, it's an easy urban escape for everyone. Also known as Parque San Martin, Parque Mexico features a handful of sections. There's the Lindbergh Forum (open air theater), the impressive Fuente de los Cántaros sculpture (Fountain of the jugs), the tranquil duck pond, art deco clock, fountains, and novelty benches. All these are surrounded with pleasant pathways for walking, jogging, and cycling. Pet friendly.
Bosque de Chapultepec
This 686 hectare park is one of the largest in the whole western hemisphere. Chapultepec Hill is at the center of the park. Surrounded with hundreds of trees and flowers, it celebrates health, fresh air, and peacefulness on the middle of the city. The vast area houses the Feria de Chapultepec amusement park, 9 museums, Chapultepec Zoo, spacious lawns, picnic areas, bicycle and walking paths, monuments, fountains, Lago Menor (small lake) and Lago Major, and of course, restaurants.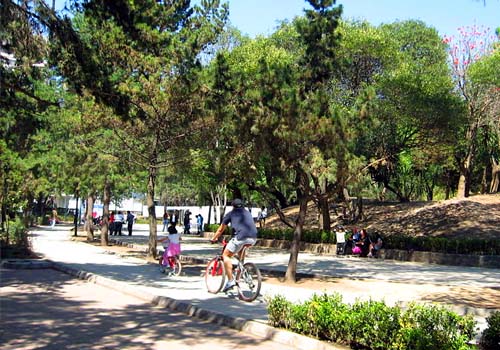 Parque Lincoln
Located just steps away from the posh neighborhood of Polanco, Parque Lincoln has a statue of Abraham Lincoln, hence the name. The perfect spot attracts bike-riders, joggers, pet walkers, and strollers who came from nearby establishments including some of Mexico City's best restaurants, bars, and shops. The friendly and hip vibe of the neighborhood extends to Parque Lincoln and its people.
Parque Hundido
The Luis G. Park Urbina Park, most commonly known as Parque Hundido, has a special feature - a floral clock made by a Zacatlán, Puebla watchmaker. An audiorama in the park can accommodate around 140 people, perfect for poetry reading, concerts, and events. There are also more than 50 pre-colombian sculptures scattered along the routes. Towering trees line the pathways for joggers, cyclists, and walkers.
*All images are copyright to their respective owners.