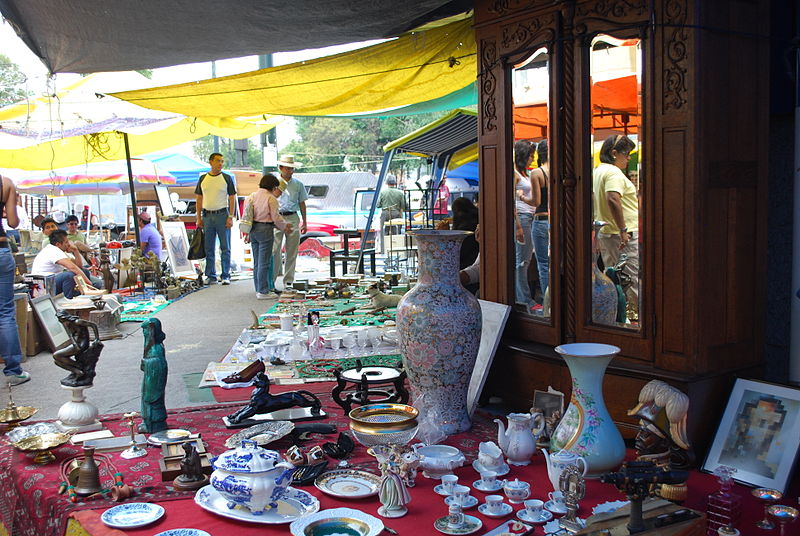 Credit: AlejandroLinaresGarcia / CC-BY-SA 4.0
A vacation in Mexico City can refresh your body and soul. Besides the city's historic attractions, it's very natural that you'd also want to go shopping in the city for souvenirs for yourself and for your friends and family. We've rounded up some great bargaining shopping spots for you, so get ready to treat yourself to shopping in Mexico City.
180º SHOP
180º SHOP is a must-visit boutique, which is dedicated to offering the best of Mexican design clothing, accessories brands, and footwear. The boutique sells both vintage and new goods at affordable prices in a funky atmosphere. If you are looking for something quirky, then you may just find it here.
Bazaar Sabado
Get ready to treat yourself to some great bargains at Bazaar Sabado a fun artisanal market place to shop. The true spirit of the market comes alive on Saturday, where visitors flock and add to the shopping vibe. In the backdrop of an old colonial-style mansion, look out for shopping a variety of woodwork, ceramics, jewellery, and other handcrafted items. Soak up the carnival atmosphere and enjoy bargaining for some high-quality goods.
La Lagunilla
La Lagunilla is another great bargaining hotspot. You'll find open-air stands (Tianguis), which sell unique souvenirs including furniture, vintage clothes, jewellery and more.
Cañamiel
Cañamiel is a wonderful concept store, which has a selection of unique handpicked products. The multi-brand store wears a contemporary attitude and offers clothes, jewellery, shoes, accessories, home-wares, and more.
Centro de Artesanías La Ciudadela
The market is located in the Ciudadela (Citadel) neighbourhood and is a 15-minute walk from the Alameda Central. You'll find mass-produced handicrafts including guitars, Oaxaca Alebrijes (whimsical painted animals), and more. The prices are quite fair even before you decide to bargain.
Mercado de la Merced
Looking for a cultural and sensory shopping experience? Then visit Mercado de la Merced, it is a huge market and visitors can enjoy shopping for spices, Mexican foodstuff, chillies and more. Mostly, dedicated to buying and selling of daily needs, the market is a must-visit for the unforgettable vibe.
Tempted yet? Don't waste a moment longer book one of the best hotels in Mexico City to stay and enjoy a pampered holiday!