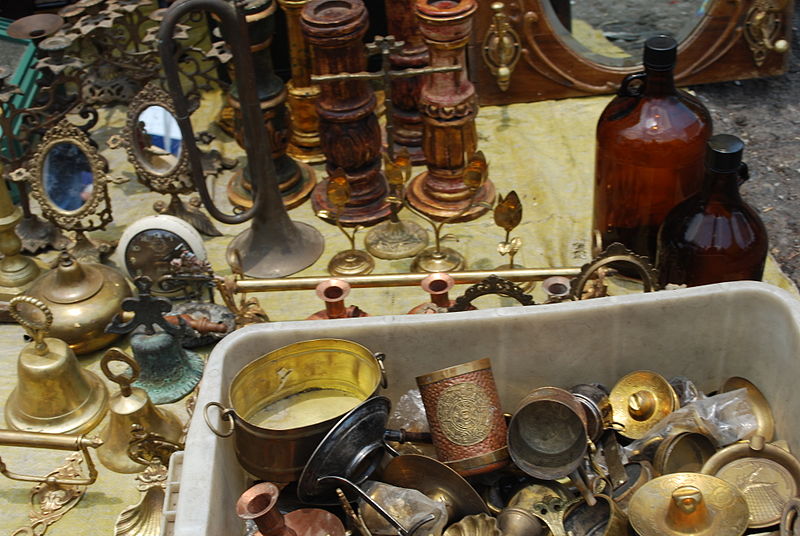 Credit: AlejandroLinaresGarcia / CC-BY-SA 4.0
Shopping in Mexico City is a stimulating experience. Discover the laneways and revel in the history and culture of Mexico City from its colourful flea markets.
The 'Tianguis' (Flea Markets) spoil you with choices of antiques, jewellery, toys, comics, clothing, and more. Whether you wish to window-shop or souvenir-shop, the Tianguis is a must-see when you are in
Mexico City
.
Tianguis Cultural del Chopo
Tianguis Cultural del Chopo located near Mexico City downtown takes place on Saturdays. It is a convenient 5-minute walk from the metro stations of Buenavista or Guerrero. Look out for clothes, shoes, original crafts, and some rare and collectable CDs or DVDs.
Craft Market Coyoacan
Craft Market Coyoacan is a lively market with more than 200-stalls. Located in southwest Mexico City, you can reach here via the metro. Discover the colourful shops selling jewellery, wool blankets, ceramics, glass-ware, Mexican art-works and more. During traditional festivals, the market remains open for longer hours. Also, try brochettes and tacos at the comedores (food stalls).
El Bazar Sabado
El Bazaar Sábado located in San Ángel takes place on Saturdays. Take a metro bus or drive about 20-minutes to reach the market. Check out the folk art, pottery, souvenir artworks, handicrafts, ceramics and more. Shop for jewellery at Kriszio and enjoy the live mariachi bands playing.
Lagunilla
Lagunilla is one of the most popular traditional flea markets in Mexico City. Located in the La Lagunilla neighbourhood near the city's main plaza, the market takes place every Sunday. Look out for jewellery, leather handbags, devotional paintings, shoes, novelty items and more. Try bargaining with the street vendors.
Plaza del Ángel
Plaza del Ángel is a wonderful open-air antique market. A year-round
shopping
centre is full of life on Saturdays. Many antique-dealers and vendors sell antique stuff here. More than forty shops are exhibiting and selling furniture, paintings, chandeliers, and art-works.