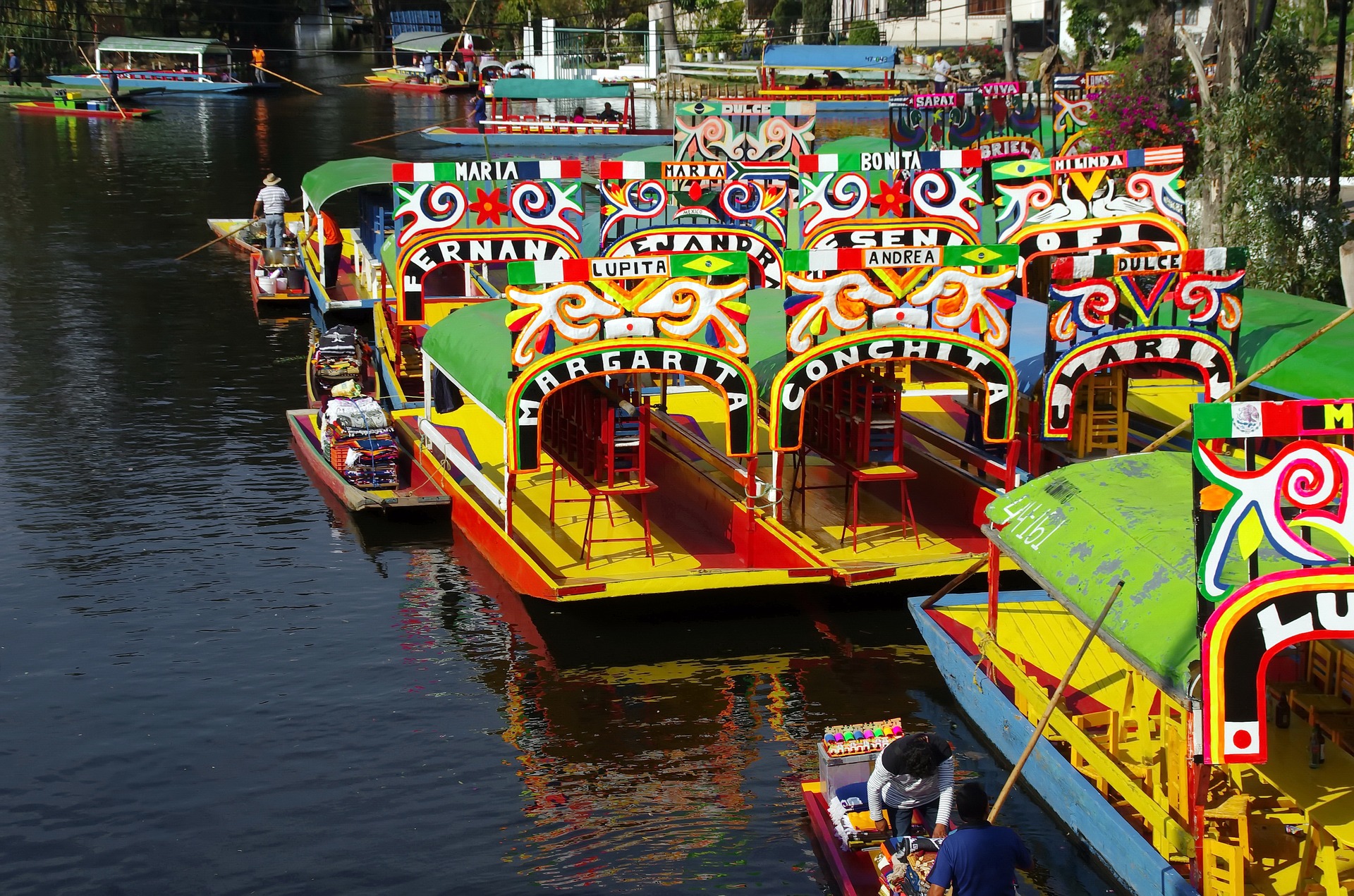 Travel just 45 minutes south of Mexico City and experience the special floating gardens of Xochimilco, one of the most ancient towns in Mexico.  A UNESCO recognized World Heritage Site.
Floating Gardens
Canals connect man-made islands called chinampas (floating gardens), remnants of an old Aztec agricultural system. Traditionally these artificially raised agricultural fields were cultivated intensively to sustain the Aztec empire, today they still grow flowers and other crops. Canals are traversed by decorated and vibrant boats called Trajineras, similar in structure to the flat-bottomed Gondolas of Venice. You can hire one for a ride costing approximately 350 pesos per hour; each boat seats about a dozen people.
How to Get There
The easiest way is to take Metro Line 2 (blue line) to Tasqueña (sometimes spelt Taxqueña) and then the light rail (Tren Ligero) to the last station Xochimilco. The pier leading to the canals is just a short walk away, you'll find arrows on small blue signs to help guide you there. Weekends are generally pretty crowded as Mexico City locals head down to the cooler canals, so if you're short on time, take the Xochimilco Boat Ride and Cultural Tour will make you familiar with the culture of the Aztecs.
If you want some time for quiet exploration, there is a lot more to do in Xochimilco; you can visit the haunted La Isla de Las Muñecas (The Island of the Dolls) or the Dolores Olmedo Museum.
Dolores Olmedo Museum
The Dolores Olmedo Museum is based on the collection of a Mexican businesswoman by the same name and it offers a rare opportunity for art aficionados to appreciate the works of painters Frida Kahlo and her spouse, Diego Rivera. Housed in a five-building complex, the museum contains more than 150 paintings and nearly 6,000 pre-Hispanic figurines and sculpture.
The Frida Kahlo Collection at the museum is the largest in the world with internationally recognized works like The broken column, Henry Ford Hospital, My Nurse and I. If you want to learn more about the life of Frida Kahlo drop by La Casa Azúl (Frida Kahlo House Museum).