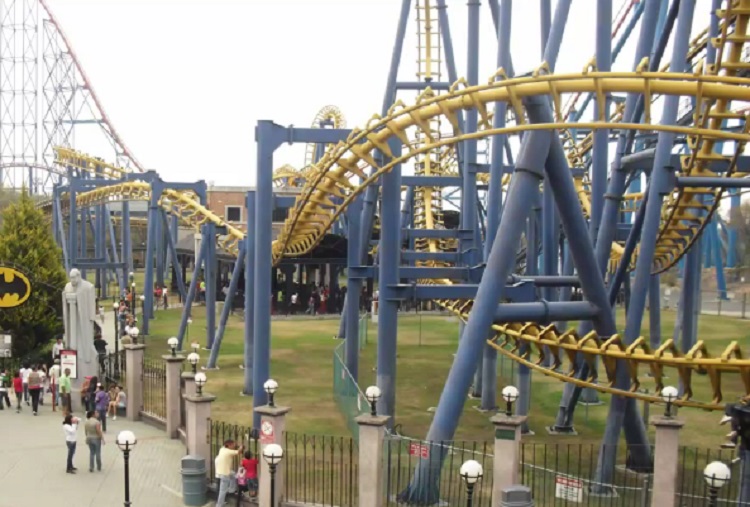 Scream and splash! That's how we have a blast here in Six flags Mexico City! It's bundled with a Dolphin package of your choice - swim with dolphins or encounter with them. A surefire exhilarating and awesome day awaits!
The day tour starts with a pick-up of tourists whose hotels are located at historical central, Zona Rosa, Reforma and Polanco. If your hotel is not there, then have to proceed to the pick-up points before 9 AM and you're off to Six Flags in an air-conditioned coach. Your ticket entitles a 6-hour access pass inside the park and you have a choice of over 40 rides, some are kid-friendly, some best for families or groups, while some will literally take your breath away!
Top thrill rides include the Boomerang, Catapulta, Curandero, Slingshot, SkyScreamer, Kilahuea, Vudú, and Hollywood Speedway Go Karts will spin your world and make you scream with delight! Strap your superhero belts and summon your bravery spirit to ride the Huracán, Medusa Steel Coaster, Superman El Ultimo Escape, and Batman the Ride.
For more relaxing, chill-out rides, check the family-friendly rides like the Hollywood Tours (train ride), Expreso Musical, Fiestas de las Tazas (teacup ride), Le Grande Carousel, Le Mans (indoor mini-karts), Pinas Locas, Rock & Roll, Rueda India (ferris wheel), Ruleta, Rio Salvaje (river ride), Splash, and Vuelo Alpino. Roller coasters include The Dark Knight Coaster, The Joker, Tsunami, and Jr. Roller Coaster.
Bring the kids along and watch them run around the park. Made for children rides will surely tire them out and put a large grin on their faces. Let them explore the Camiones, Chiquimotos, Circo Express (train ride), Convoy del Correcaminos, Globo de Elmer, Gran Turismo, Jet Acrobatico, La casa de Piolin, La Casona de la Abuela, Labertinto, Orca Aventura, Oruga, Super Cornelio, and Vuelo Intrepido de Sam Bigotes.
Proceed towards Dolphin Encounter or Dolphin Swim package. These programs usually start at 11 AM, 12 PM, and 2 PM, so choose your preferred time. Both programs include a dolphin dance presentation with the mammals jumping in the air, as well as photo posting with the dolphins. Use of facilities such as hot water, towels are inclusive. The Dolphin Encounter (30-minutes) allows guests to touch (gently) the dolphins while swimming in the pool with them. Learn about their characteristics, anatomy, and caring needs. Normally, up to 12 guests are allowed per encounter.
The Dolphin Swim
(45-minutes) allows guests to shake the dolphin's fins and swim with them. Numerous restaurants are littered all over the park, having endless choices of American dishes, Asian cuisine, Mexican, Italian (pizza), salads, snacks, desserts, and cafe. Please be advised to bring Mexican pesos. Credit and debit cards are accepted.
Bring the whole family to spend a full day at 
Six Flags Mexico
!