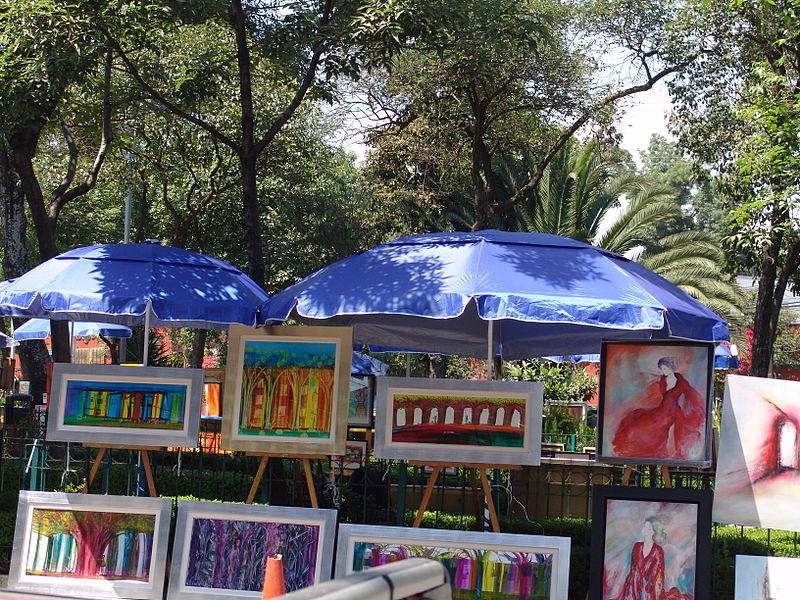 Credit:  Inakiherrasti / CC-BY-SA 3.0
No trip to Mexico can be complete without authentic Mexican handicrafts to commemorate your trip.
Mexico City is home to a variety of handicraft markets from publicly held venues to government initiatives featuring some of the finest local artisan creations like innovative blown glass, vibrant hand-painted crockery and more.
Some of the most popular Mexico City shopping areas are La Zona, Polanco and Centro Historico. Here visitors will find a variety of shops including department stores, boutiques, artesania (handicrafts) markets, and more. The Bazaar Sabado and Plaza San Ja Cinto 11 are popular for their fine Mexican handicrafts or support local communities via The National Fund for the Development of Arts and Crafts, which features outlets in Avenida Paseo de la Reforma 116, Avenida Patriotismo 691 and Avenida Juarez 89. Crafts are displayed Monday-Sunday at various venues including Ayuntamiento and Dolores in Centro Historico, Mercado de Curiosidades Mexicanos San Juan, and the Mercado la Ciudadela, which features a variety of handicrafts from all over Mexico. The western part of the city features the largest shopping centre in Latin America. Centro Santa Fe Vasco de Quiroga 3800 houses over 300 shops including boutiques, department stores, restaurants, 10 cinemas and play areas. The largest department stores in Mexico City include Liverpool, Sanborns and Palaci de Hierro.
During Mexico City holidays, the streets come alive with various feasts, parties, festivals, parades, entertainment, and music. Ascension Day, which takes place in August, is one of the most important religious festivals in all of Mexico, during which time, the Virgin Guadalupe is honoured with images and mass. Christmas in Mexico City is marked by various street processions held throughout the last two weeks of December for a holiday celebration like no other. You can also stop by the Perisur shopping mall for some family attractions, nativity scenes, light shows and life-sized polar bears.
Other things to do in Mexico City include Mexican food tours, city tours, urban adventure tours, bike tours and more.
Mexico city weather in December averages in the '70s, which makes it a great time to visit Mexico City. To discover all that Mexico City has to offer, book a
trip
today!