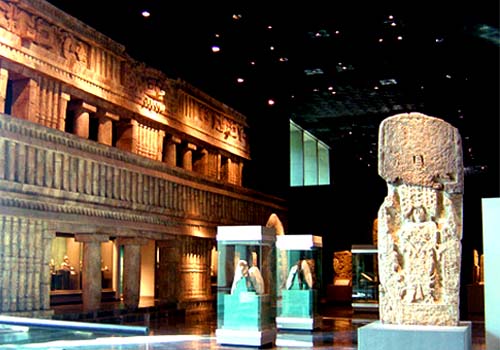 The best way to truly understand a place is to rediscover its history. Here at the
National Museum of Anthropology
(Museo Nacional de Antropologia)
, you can find relics, sculptures, murals, and tangible pieces of Mexico's rich cultural history, translating volumes about how colorful and significant the past has touched modern Mexico.
Always one of the most recommended places to visit in Mexico City, The National Museum of Anthropology boasts numerous iconic displays, ancient arts, and the largest collection of Mexican heritage pieces. From archaeological and anthropological artifacts, to tombs and gravestones, the museum tastefully presents each one with calculated care.
Located within the famed
Chapultepec Park
in Mexico City, the impressive architectural structure of the museum alone will peak your curiosity radar to the hilt. The center pond in the courtyard comes with an interestingly long cantilever 'umbrella', which is supported by a single pillar that seemed to defy engineering laws. It has 23 permanent exhibit halls, and almost 8 hectares of areas of cultural finds and art piece discoveries.
One of the most popular pieces is the Aztec Sunstone. This giant Aztec calendar stone is made of basalt, weighs about 24 tons, and measures almost 12feet in diameter.
Treasures from the Mayan Civilization depicting the old ways of Mayan living include sculptures and murals.
The museum is fitted to accommodate international and local guests.
* Lockers are available for storing your extra bags at museum front esplanade.
* Coat-check area at the lobby collects packages, umbrellas, backpacks, and all items not allowed to take inside the exhibit halls.
* Wheelchairs are available for free, first-come first-served basis.
* Flash photography, selfie sticks, smoking, and bringing food are not allowed within the premises. Mxp45 permit is required for those who wish to use a video camera.
* Restaurant Meridien at the museum's ground floor is ready to serve meals until 6PM.
* Never leave without visiting the Gift Shop at the lobby. You will score some unique souvenirs which can perfectly commemorate your Mexican travel.
* Parking fee is Mxp16 per hour.
* The
National Library of Anthropology and History
is open Monday-Friday, 9AM to 9PM at the ground floor office area.
Entry Fee:
Mxp64
Free Entry
for Mexican citizens and residents:
Sunday
*ID required -
Free entry
for national students, national teachers, PWD (person with disability), children below 13yrs-old:
Daily
National Museum of Anthropology
Av Paseo de la Reforma y Calzada Gandhi S/N, Chapultepec Polanco, Miguel Hidalgo, 11560 Ciudad de MéxicoTel: +52 55 4040 5300Daily: Tuesday - Sunday 9AM to 7PM. Closed on Mondays.

*All images are copyright to their respective owners