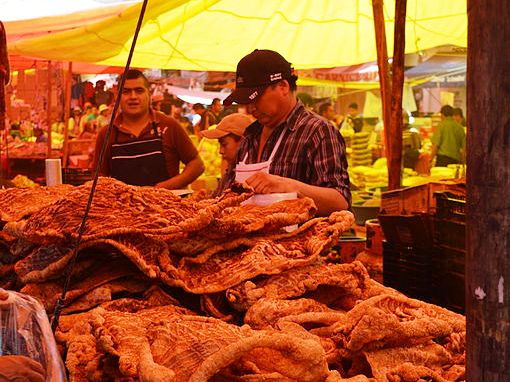 Credit: AlejandroLinaresGarcia / CC-BY-SA 4.0
There are places where you follow your heart and places where you follow your instincts, but there are some places where you must definitely follow your nose. Mexico City's street eats can conquer your senses.
Treat yourself with the tricycle carts plying steamers of spicy aromatic tamales, and bicycles laden with baskets of tacos. A city where distinguished chefs like Enrique Olvera and Elena Reygadas redefine Mexican cuisine. As you wonder what street food to eat in Mexico City. Discover the myriad food options and read on for the best street eats in the city.
Tacos al pastor
Tacos al pastor are lusciously seasoned pork, spit-grilled and cooked on a trompo (rotisserie). The culinary descent is attributed to the Lebanese immigrants. The chefs carve the spit and serve with tortillas complemented with onions, salsas and cilantro. Stop by the late-night spots El Vilsito and El Borrego which serve scrumptious tacos.
Chicharrónes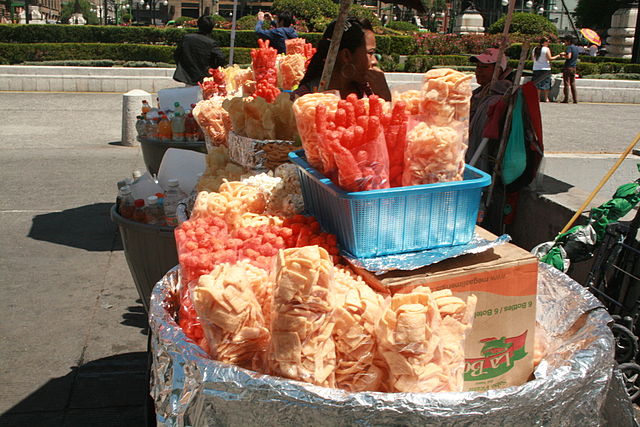 Credit: Iván Martínez / CC-BY-3.0
Chicharrónes are a delectable fried-pork dish made of pork-skin and flour and accompanied with hot sauce and lime. The street vendors can hand you a bag of these accompanied with nopales (soft-pads prickly pear cactus) and salsa.

Flautas
Flautas are oval-shaped tortillas which are deep-fried with a chicken and potato (or pork) filling. Toppings of lettuce, crumbled cheese and sour cream are perfect for the popular finger food.

Tlacoyos
Look out for Tlacoyos, oval-shaped cakes made of masa at the tianguis (an open-air market). These mouth-watering cakes are stuffed with beans and cheese. Stop by the market where the older-women make these cakes on a griddle.

Pescado a la talla
Pescado a la talla is a grilled fish which is thickly smeared with mayonnaise and classic pico de gallo. The mouth-watering preparation is served in corn tortillas with a topping of crisp-crunchy slaw.

You can also explore best restaurants in Mexico City for Mexican as well International food.