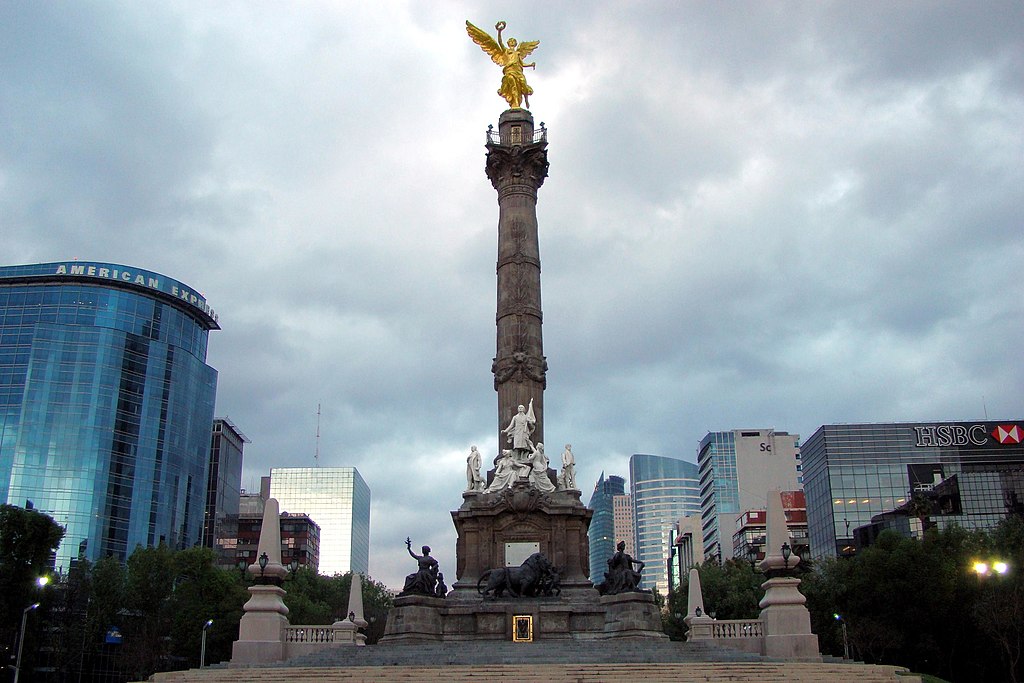 Credit:  Juan Manuel Gomez Ruano / CC-BY-SA 4.0
It's one of the largest cities on the planet in terms of the population so it's fair to say that there is plenty to do in Mexico City. The sprawling Mexican capital has a rich cultural history and a vibrant growing population. If you're in town for a quick pit stop or visiting for a few weeks, there are plenty of things to do and see in the place dubbed Chilangolandia. Let's take a look at some of the best destinations for tourists and locals alike.
Tours
There are few better ways to explore a city than with a guided tour and there are plenty of options in Mexico City. 'Journeys Beyond The Surface' offers an extensive eight-hour tour exploring the city's rich history and tourist hotspots.
If you're more into food than architecture then that won't be a problem. There's more to Mexican food than tortillas and guacamole as you would discover on a guided food tour. Eat your way across Mexico's capital at the 'Eat Like a Local' tour which offers a range of different food safaris to meet your desires. From late-night street food to early mornings trips across the markets and street stalls, you'll find something to fit your needs.
Museums
A place as large and historic as Mexico City is bound to have a burgeoning art scene but the sheer range diversity of the city's museums and art galleries is astounding. There are astounding historic buildings like Palacio de Bellas Artes and Museo Nacional de Arte and cutting-edge galleries like the Museo Soumaya.
The Soumaya was founded by Mexico's richest man, Carlos Slim and features an extensive collection of over 60,000 pieces. The works range over centuries and continents but feature a mixture of more modern Mexican art and older European pieces from artists like Salvador Dali and Pablo Picasso.
Another prominent art centre in Mexico City is the Frida Khalo Museo. Based out of the same building where the famed Kahlo was born and raised, the museum features a collection of work from Kahlo, her husband, Diego Rivera and a host of other artists.
Nightlife
Are Museums not your thing? Don't worry because Mexico is a country known for its nightlife. Parties start early in Mexico City – both in terms of time and day of the week with Thursday acting as the first day of the weekend for some locals. Tequila is obviously hugely popular (sip don't shoot) but so are a whole range of other drinks and cocktails like the Michelada.
Clubs and bars can be found easily across all areas of the city and gambling is a popular pastime amongst many. The trendy Casino Life lies on the lengthy Avenida De Los Insurgentes, the longest road in the city and is a great place to visit for a few rounds of cards. Just don't forget to brush up on the rules if you don't know your American Roulette from your European Roulette.
Historic Centre
The Historic centre of Mexico City or Centro Histórico de la Ciudad de México is a sprawling World Heritage Site in the centre of the city. It is a lengthy area which houses over 9,000 buildings including the National Palace and the Hospital de Jesús Nazareno, a site which will soon celebrate its 500th birthday.
 
The Historic centre is built around the city's main square, the Zocalo. It is the setting for much of the opening sequence in MGM's 2015 Bond film, Spectre but had a rich history long before that. According to the BBC, over 100,000 people can find inside the Zocalo.
Six Flags
Everyone loves a trip to an amusement park and Mexico City has one of the best around. Six Flags Mexico is the most popular amusement park in Latin America and a fine way to spend an afternoon. Opened in 2000, Six Flags Mexico has been ranked in the top 50 amusement parks in the planet. The park has just shy of 50 rides including tributes to Batman and Superman.
Bosque de Chapultepec
The Bosque de Chapultepec is Mexico's equivalent of Central Park, a glorious green haven in the middle of a sprawling concrete city. It is one of the largest city parks in the world outside of the United States. A large mound known as Chapultepec Hill lies at its centre, a one-time sacred place for the Aztec people.
Today, Chapultepec Castle, a 220-feet structure dating back to 1785 lies atop the hill. It is the only royal castle in the Americas and has been used for a variety of purposes over the centuries. Today, the doors are open to visitors who want a taste of European castles without having to cross the Atlantic.
Lucha Libre
Something you can do in Mexico and almost nowhere else on earth is Lucha Libre. Mexican wrestling is one of the most popular spectator activities in the country and is known for its colourful masks, unique wrestlers and an unimaginable amount of spandex.
It's an unmissable event for any tourist whether you're a wrestling fan or not and prepare yourself for something very different from the WWE. Arena Mexico is the place to be with prices starting from as little as $60 Pesos, around US $3 on Ticketmaster. What better way to spend an evening?